Randy Green Art Collections
Shop for artwork from Randy Green based on themed collections. Each image may be purchased as a canvas print, framed print, metal print, and more! Every purchase comes with a 30-day money-back guarantee.
About Randy Green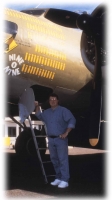 During the summer of 1976, Green's natural abilities as a landscape artist fused with his interest in aviation. While canoeing one early morning on Eagle Lake in northern Wisconsin, Green was confronted by a low-level B-52 Stratofortress breaking over the trees and dipping down toward him to fly nap-of-the-earth on the lake! "I've never forgotten that experience, the thrill and power of the instant that crew flew over a scant hundred feet above me, it was the turning point of my development as an artist. From that point on, I always knew my passion and art would be in the sky and with the aircrews who flew there."

After this encounter, Green was often found sketching any available aircraft or flight equipment at hand. At the age of 16, he sought out employment at the local airport in his hometown of DeKalb, Illinois, then a former Naval Pilot Training facility. His exposure to the day-to-day operations added further to his skills as an artist and as a fledgling pilot. The opportunity to help maintain and service all manner of civilian and transiting military aircraft exposed him to the crews and intricate machinery and physics involved in his self-imposed discipline. He often traded his earlier illustrations and paintings for "stick-time" and would earn his private pilot's license before his drivers license! To celebrate his 2nd solo flight he christened the local high school with a proper low-level buzzing, six times! "I recall getting into a lot of trouble with my flight instructor, Bill Kenney, for that stunt. About the 3rd pass I was actually looking up at the schoolyard flagpole! Of course, school was in session, but I was where any pilot would always rather be, flying!"

In addition to many single engine civilian aircraft, he has piloted hang-gliders, gyrocopters, completed static-line parachute jumps and participated with the USAF Art Program as well as a previous charter member of the American Society of Aviation Artists. Although he began his college career majoring in computer science, Green would graduate from Northern Illinois University with a Bachelor of Fine Arts degree in Painting. Since 1985, he's worked as a freelance illustrator in Maine and Virginia, basing his work on first-hand observation gained through many hours spent in flying. Green recently completed an exhibit design at the Eastern West Virginia Regional Airport (Shepherd Field). His designs and illustrations gracefully interpreted the region's rich aviation history and helped the airport authority put it's priceless heritage on public display.

Illustrating aviation and military subjects is Green's hallmark, and it has earned him extensive recognition worldwide as a prominent historical artist. His original aviation paintings and prints grace the walls of museums, private collections, the Pentagon and countless military and government offices across the United States and the globe. His masterful depiction of extraordinary events in aviation history are always centered on the human element. "Whether it is researching the circumstances of a distant mission flown into hostile skies, often with no witnesses to report, or a modern-day achievement, it is the fearless manner and un-feted day-to-day actions of the aircrews which inspire me. They have always been my personal heroes, and I hope in some small measure, my work has paid tribute to the great personal sacrifices they have endured."

Green and his family reside near a quiet lake in the foothills of northern Virginia.